---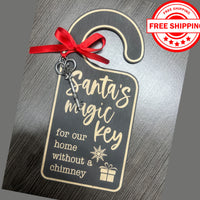 For those homes without a chimney Santa can give you a Magic Key to be used to open your door on Christmas Eve.  Leave it on the tree or hang on the door as a decoration until that time.  It is a great way to celebrate the holidays with the little ones and big ones alike.

No customization with this door hanger.

Measures 4.6 inches by 10 inches.  Made of birth wood painted black.  Finished off with an old fashioned key that hands from a red ribbon to go from tree to door in an instant.
Ships in 3-5 days.