---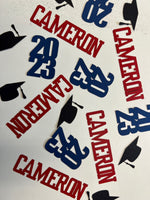 Looking to add a special touch to your graduation open house, with minimal effort.   Sprinkle our custom confetti on the tables and you are good to go. 
Made from high-quality paper stock, our confetti is available in a variety of colors to match your school colors or personal style.  
Order now and get ready to celebrate your graduate in style!
* Light colors like white and gold could have areas where there is soot buildup from the cutting machine on the backside.  These can be removed by taking a VERY LIGHT DAMP magic eraser and cleaning them off.  Then allowed to dry flat.  There is no way to keep this from happening.  So keep in mind when selecting colors.
DESCRIPTIONS:
Graduation hat will be black - approximately 50 pieces in an order. (each is approx. 1"x2")
2023 will be in color of your choice - approximately 30 pieces in an order. (each is approx. (2"x1")
Name is in color of your choice - approximately 30 pieces in an order. (each is appox. 1 inch tall and length depends on name)